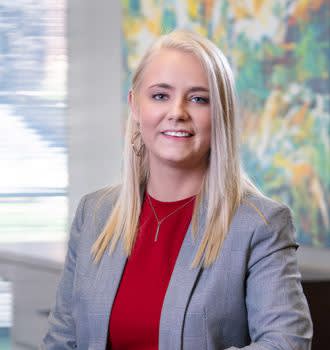 Paeten joined Denning Law Firm, LLC in 2021. Paeten knew at a young age she wanted to be a lawyer so that she could help others. As a grade-schooler, she would attend law school classes with her Dad and would study with him after school each day in the library at the University of Missouri-Kansas City Law School. It was this early exposure to law and her desire to enter a profession where she felt like she could have a positive impact on people's lives, that reinforced her desire to pursue a career in law.
An Exceptional Educational Background
Paeten pursued this dream at the University of Kansas School of Law graduating in 2019. Following graduation, she began her legal practice at a plaintiff's firm in Kansas City focusing on the areas of personal injury, civil rights, and medical malpractice. Paeten assisted in two major jury trials, appeared for hearings in state and federal court, participated in local activism, and gained invaluable experience representing individuals who had been injured due to the negligence of others.
While at the University of Kansas School of Law, Paeten was an active student participating in women in law, the international law society, acted as the vice president of the student bar association, and KU's traffic court. After her first year of law school, Paeten interned at the United States District Court of Kansas. She helped write the Kansas Habeas Corpus help sheet, assisted in writing court orders, legal research, and observed federal dockets and trials. Paeten also interned at the Tanzania Women Lawyer's Association in Arusha, Tanzania. She assisted low-income clients with custody issues, land right issues, and participated in community activism for female representation. After her second year, Paeten clerked for a plaintiff's firm and then was awarded a humanities grant to travel to Tanzania to study health law and health care access for women.
I'm proud to be an advocate for those who have suffered due to negligent or discriminatory actions.
A True Passion for Advocacy
Paeten's desire to be an advocate for others does not stop in the courtroom. In her third year of law school, she founded MARBLE, a not-for-profit that provides assistance to young single women who are pregnant in Tanzania and have been kicked out of school due to discriminatory laws.
Before attending Law School, Paeten received her social welfare degree from the University of Kansas. While at KU, Paeten studied Swahili and minored in African Studies. In 2013, Paeten was awarded a Fulbright Hays Scholarship that allowed her to travel to Tanzania where she spent time studying women's rights and Swahili. During her senior year, Paeten completed her social welfare practicum at Kansas Legal Services where she assisted attorneys with protections from abuse, job reintegration, and needs assessments for the community.
Paeten currently participates in the Jackson County Public Defender Panel where she volunteers her time to represent clients in state court for criminal matters. When Paeten is not working she enjoys spending time with her husband, twins, and their dog Dutch.
Paeten specializes in litigating personal injury, medical malpractice, and civil rights cases.
Bar Admissions
U.S. District Court, Western District of Missouri
Memberships
KCMBA

MATA

Association for Women Lawyers of Greater Kansas City

National Employment Lawyers Association
Education
J.D. - University of Kansas School of Law, 2019

University of Kansas

Degree in Social Welfare

Minor in African Studies

Studied Swahili
Scholarships & Awards
College of Liberal Arts Honor Roll
Vice President of University of Kansas Student Bar Association
2018 ColLab Health Initiative Grant Recipient
>